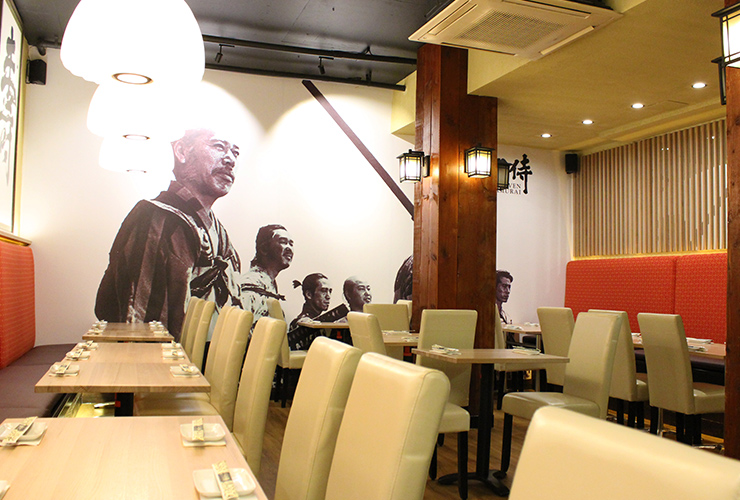 For lunch time we recommend lunch set menu from $11.80.The main dish comes with Miso Soup and Agedashi Tofu. Very reasonable price!! The most popular menu item is the daily specials and you can enjoy the following dishes Monday to Saturday, great value!
Monday
Sushi & Sashimi Lunch Set $15.80
Tuesday
Wagyu Beef Steak Lunch Set $14.80
Wednesday
Teriyaki Fish Lunch Set $11.80
Thursday
Teriyaki Salmon Lunch Set $14.80
Friday
Yakiniku Beef Lunch Set $12.80
Saturday
Sushi Samurai Lunch Course $17.80
Enjoy them with Sapporo Beer (small) $5.00 or with Sushi Samurai Wine (glass) $5.00, available only for lunch time.
The most popular dish for local customer is Premium Teriyaki Chicken Lunch Set $13.80.
Everyone just loves it and keeps coming back for it.
Next popular menu is Sushi & Tempura Lunch Set ($17.80).
For dinner, more than 100 a la carte menus are available, Crispy Prawn Tempura $9.80(6pcs) is the most popular dish.
Additionally for dinner, we have our dinner set available from $24.80.
This includes a main dish with Sashimi, Miso soup, Udon noodles or Rice,
followed by some ice cream! Great value for the price that will fill you up with delicious food!
We have a variety of dessert choices as well.
Especially our sweets platter $12.80 is highly recommended. It is a set of Green tea tiramisu, Chocolate Mousse Cake etc...
Not only Tap Beer, Plum Wine and Samurai Wine, we have a wide selection of alcohol drinks as well. Please come and enjoy the dining experience at Sushi Samurai Pyrmont.